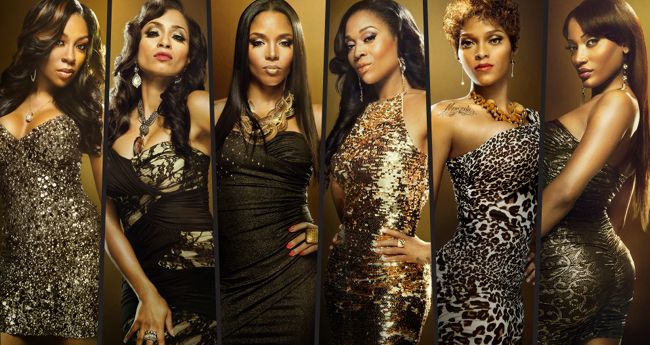 'Love & Hip Hop: Atlanta' just premiered and the tea is HOT...
K.Michelle first re-outed Toya Wright's husband Memphitz as the man she loved that abused her and stole all her money (click Pink for more), Joseline Hernandez was outed as a transgender then a prostitute (click Pink for more)...
Now new intel reveals shocking info about Mimi Faust and her baby father Stevie J...
Mimi and Joseline are said to have gotten ''down'' on some straight Diamond from 'Playa's Club' when she was ''taken'' by Ronnie...
"Joseline is running around saying she had sex with Mimi. I heard Mimi once passed out at Joseline's house, only to wake up with Joseline's face between her legs. This b-tch Joseline is bipolar, not only did she have an abortion for Stevie J. (in front of the cameras, viewers will later see), she was also one of the strippers that was involved in the Adam 'Pacman' Jones scandal in Las Vegas back in 2007."
Stevie J is said to have a drinking problem, and he is broke as a joke...
"Stevie acts like he got bread but the Nicca is broke his studio is on Auburn Ave, that's in the hood. Stevie was drunk, when he called Scrappy's baby momma Erica a b-tch. He didn't expect any repercussions. He tried to apologize to Erica when we all were at the studio, but his girl Joseline interrupted his apology and said 'Stevie f-cked Erica.' That's when Scrappy's manager Kevin kicked his a$$, Kevin put his Timberland boots to Stevie's head and Benzo (who's Stevie's boy) just stood there and watched..."

"...Stevie J. don't even own a car – it's Benzo's car he's using to floss with on the show. Jacky, I know the dude who owns the actual house Stevie J was fronting on television, claiming he bought Mimi."
On Stevie J's past relationships with rapper Eve, Whoopi Goldberg's daughter Alex, and possible 'down low' behavior, insiders reveal...
"Stevie J is a nut…he was the guy who released Eve's sex tape, because she dumped him. Stevie J has so many kids, and he refuses to support them. He was once was engaged to Whoopi's daughter Alex, using her for money after falling off as a producer. That's why Alex left his a$$ before getting back with her then ex-boyfriend to get married..."

"...Back in the day, there were gay rumors surrounding Stevie J's name pointing to him as once f-cking with Jodeci."
Stevie J has a THING for ''women'' with criminal pasts, because his baby mother Mimi Faust was arrested for battery <SHOCKER! She tryna act all classy and timid around Joseline, chile pls it's time to whoop a$$>...
The last interesting tidbit, sources tell that Lil Scrappy momma is bisexual, and enjoys the company of younger women often!
Check out the clip below for episode 2 of LHHATL, we're sure you'll be watching...