Snapshot of K's PSA against domestic violence
'Love & Hip Hop: Atlanta' cast mates K.Michelle and Benzino sounded off on the very public breakup of Evelyn Lozada and Chad 'Ochocinco' Johnson, and the domestic violence that tore them apart...
K.Michelle, no stranger to domestic abuse, gave Ev her full support...
K, "I just feel like it's a very delicate situation, just like with my situation, no one was there with them. We don't know what happened. We don't know anything about it. And I think that media, as well as the Twitter people and the outside world, are so quick to judge and take sides on the situation...

...It's sad to see a black man lose his job. It's sad on his part. It's sad on her part. As a woman, you never want to have to go through that. I think that's something very traumatic for any woman to have to go through...

...Evelyn is such a beautiful woman that a lot of girls look up to. I'm very proud of her for taking a stance and walking away, because I feel like I was so in love at the time when the police came to my rescue, I should've moved forward with charges and [I should've done] what I needed to do. So, I think it's very commendable on her part. At the same time it's a tragic situation for both parties."

On people's views Ev's temperament from 'Basketball Wives' played a role in her fight with Chad..
K, "I think it's really crazy that people can watch you on TV for an hour, and you've been living your life forever, and put on TV for an hour, and then for you to not be sympathetic towards Evelyn or sympathetic towards me. There are different sides of every woman. Editing happens...

...You don't understand and you don't know who K. Michelle is. You don't understand and you don't know who Evelyn is. You don't know if Evelyn goes home, and she could be the most mild mannered, calm person. You just never know how that is...

...To not be sympathetic to her in a time like this is absolutely ridiculous. It shows you just how evil the world is and it shows you just how real jealous the world is."
Benzino also touched on Ev & Chad's relationship...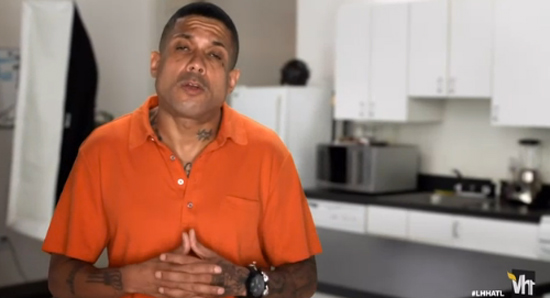 Benzino, "I think the Chad Johnson and Evelyn situation is a situation where reality TV has to be careful because, everybody wants a marriage, everybody wants to see a marriage."

"But when you look at the Kim Kardashian thing with Kris Humphries and with the Chad and Evelyn thing, if you're gonna marry somebody, if you're not madly in love with somebody and really have that spirtual, physical, emotional connection with somebody, then it's not a good idea to go into a marriage with somebody based on money, based on fame."

"Because all that does is put two people together that eventually are just gonna get frustrated with each other because they have to be with each other."
He adds, living under the constant eye of the media can lead to distress...

"What that does is put pressure on the man and woman to look a certain way for the cameras that when the cameras aren't there you still have to carry on a type of relationship with the person."

"I just think that they got frustrated and things happen, of course I feel bad for Evelyn also because nobody should suffer any injuries, there should be no violence between man and woman period."

"If you're put in that situation you've gotta make sure it's sincere because you may end up paying for it later."
Thoughts?